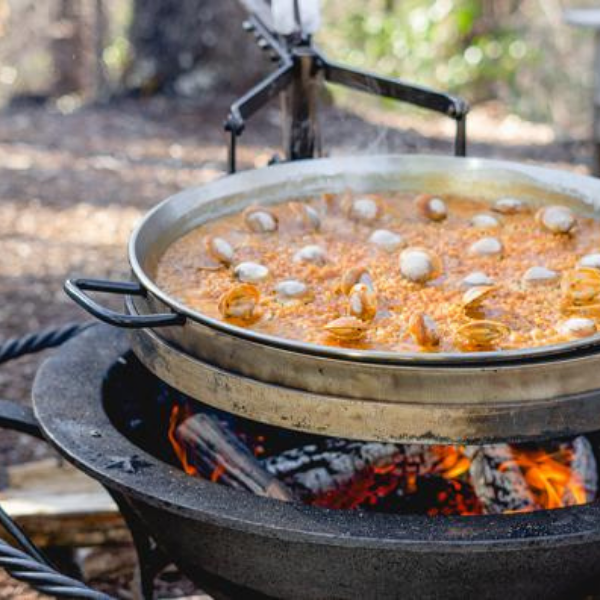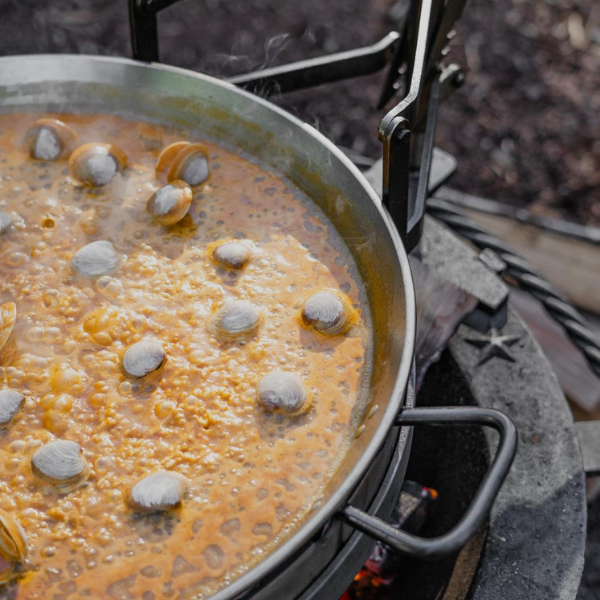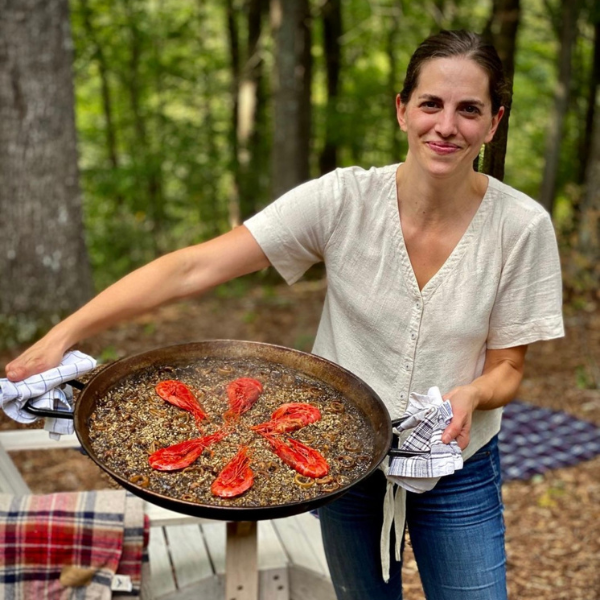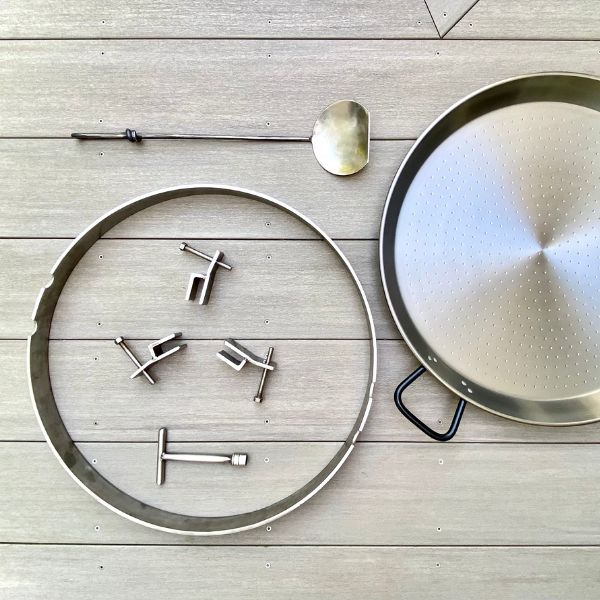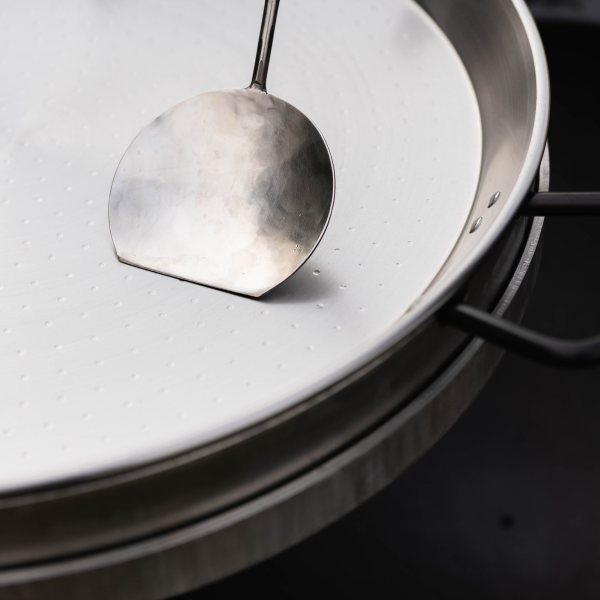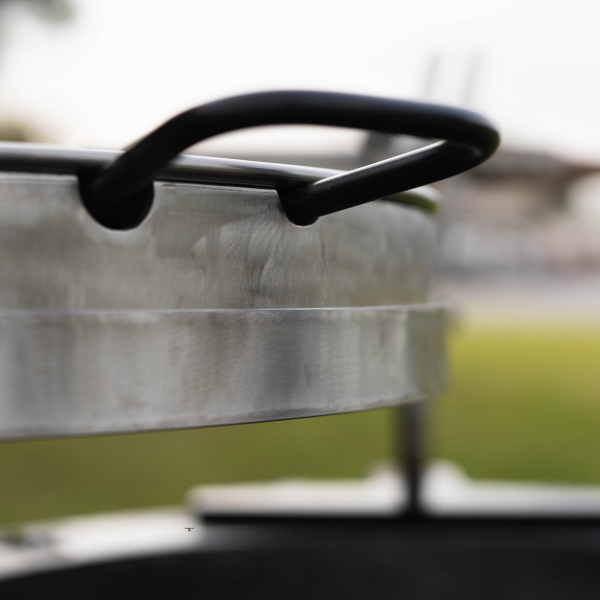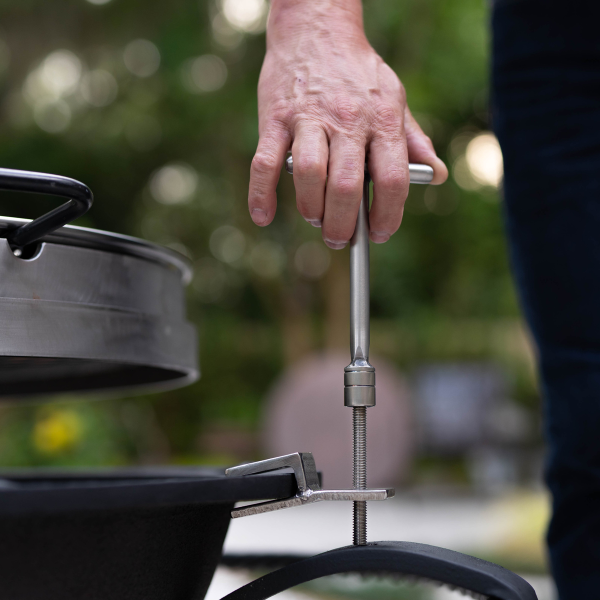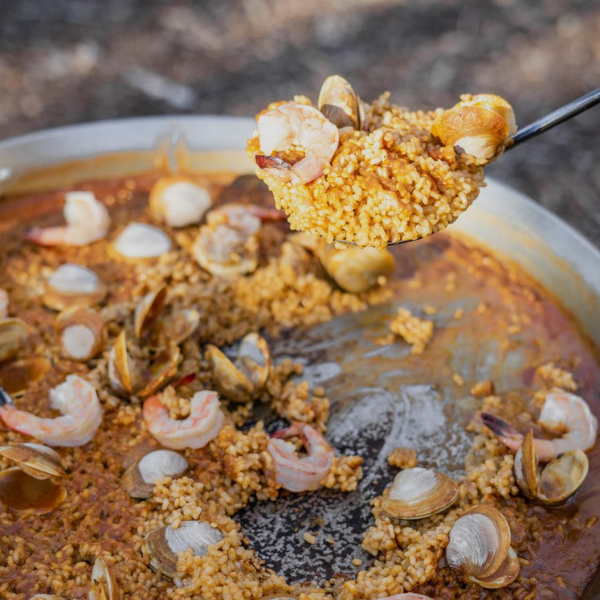 Paella, Spain's most iconic dish, is a fiesta in a pan! Like our Fire Kettles, the culture around Paella is gathering with friends and family (Read More Here). From its roots in coastal Valencia, this rice dish was originally cooked over open fire to infuse a smoky flavor. In fact, open fire is to paella what a wood-burning oven is to pizza!
Developed in collaboration with Chef Katie Button, the Rig integrates the paella pan onto our Grill providing the ultimate in heat management, which is crucial to the perfect paella and its signature socarrat - the caramelized crust of rice on the bottom.
"The ratchet system gives you ultimate control over the heat, you can easily control the heat and how fast the paella is cooking.  And with the perfectly designed spoon -- it is an open fire paella dream!" -- Chef Katie Button
Read Chef Button's recipe for Sea Island Forge Arroz and her interview on the Hot Seat.
The Rig is also perfect for any type of large format sauté. Shrimp scampi, stir fry, fajitas... use your imagination!
The Rig includes:
24" Pata Negra Pan - Chef Button's preferred pan
Ring with cutouts for pan's handles to integrate onto the Grill

Hand-forged Paella Spoon, custom-designed for working over open fire and scooping the socarrat.
Kettle Leveling Kit - brackets keep bowl level and paella pan steady (3 brackets for 30-Gallon Kettle; 4 brackets for 50-Gallon Kettle)
Chef Katie Button is the owner of two Spanish restaurants, Cúrate Tapas Bar and La Bodega by Cúrate in Asheville, NC. She and husband Felix Meana ship Spanish specialty food and wine through Cúrate At Home and the Cúrate Spanish Wine Club. The husband and wife team also offer guided culinary journeys to Spain, Portugal, and Morocco through Cúrate Trips.
*NOTE: Grill is required to use the Paella Rig. Grill not included in this product. Need one? Click for the Grill.
INSTRUCTIONAL VIDEO
FEATURES 
INCLUDES:

Ring to hold paella pan in place with notched openings for handles
24" Pata Negra Pan designed for even heat distribution and resistance to warping
Paella Spoon with longer handle for working over open fire and flattened edge for scooping the bottom crust and serving
Kettle Leveling Kit (brackets and bolts - set of 3 for 30-Gallon Kettle or 4 for 50-Gallon Kettle, 1 T-handle wrench)
Does NOT include Grill. Grill is required to use Paella Rig. Please see specific product pages to add a Grill. 

SPECS
Ring and Pan Diameter: 24"
Spoon Length: 20"
Works on both 30-Gallon and 50-Gallon Grills
Engineered specifically for SIF Fire Kettles and Grills.
MATERIALS:
Ring: Aluminum
Pata Negra Pan: Heavy-duty Carbon Steel
Spoon: Food-grade Stainless Steel
Kettle Leveling Kit - Stainless Steel
SHIPPING
This item ships via Fed-Ex or UPS Ground. 

Please allow 2-4 weeks to ship.

Shipping will be calculated at checkout.

For pick up from the Forge in Brunswick, GA, please call to schedule an appointment. 912-580-0346

Click Here for complete shipping information.