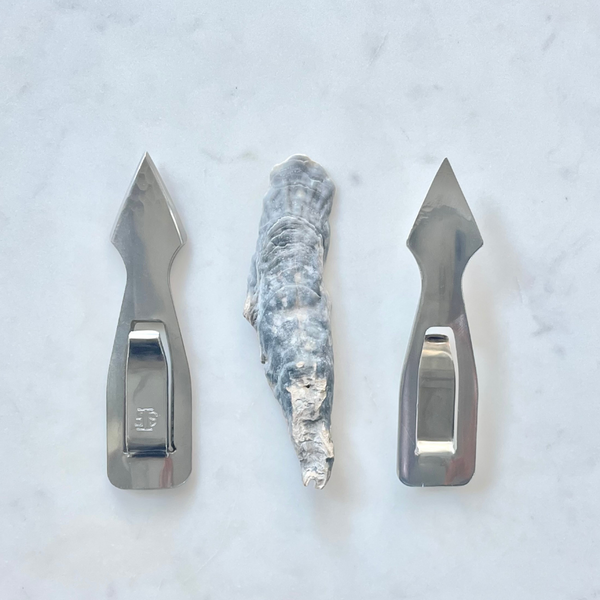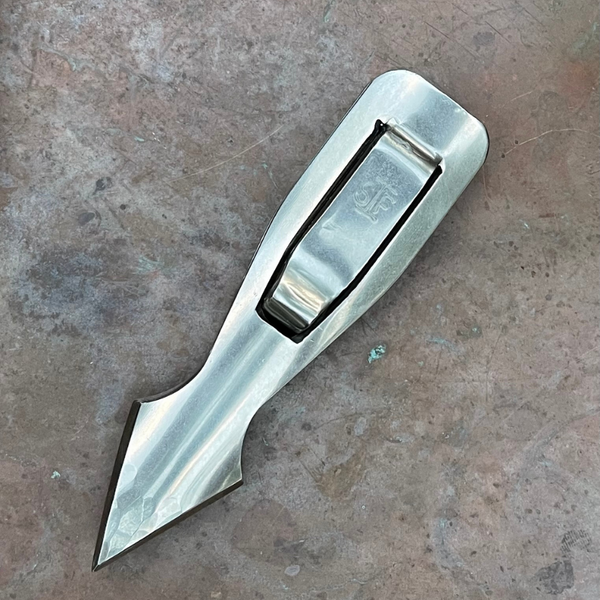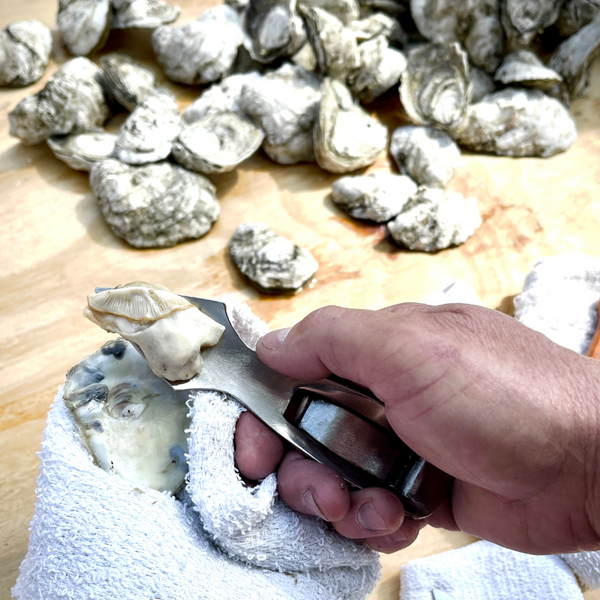 Sapelo Oyster Shucker & Guard Set
A sister to our beloved Black Banks Oyster Knife, our newest Sapelo Shucker is handmade in the Forge and shares all of the thoughtful design features of our original oyster knife but with a distinctly different look.  
The Sapelo Oyster Shucker is designed to shuck comfortably, efficiently, and with plenty of torque whether you're left or right handed.  Steve designed the shucker with a helpful spoon shaped tip which ensures you'll enjoy not only the oyster but all of the deliciously salty juices along with it. A favorite of our customers, our oyster knives all double as a bottle opener keeping you where you want to be - front and center at the oyster table 
Why Sapelo?
The inspiration for this shucker is drawn from the shape of the McIntosh oysters found off of Sapelo Island in Georgia's Sapelo Sound - a place where Steve's dad, Taylor Schoettle, a naturalist and author, would visit regularly. The oysters, a favorite of his, have a notably longer and thinner shape than most oyster varieties. 
*SIF products are artisan crafted. Given their handmade and hand-finished nature, variations are to be expected and celebrated. Each item is unique and no two are exactly alike. Images shown may vary from your actual piece. 
FEATURES
Hand-hammered tip strengthens the metal for efficient shucking.
Spoon shaped blade allows you to scoop out the oyster, and all the juices as well.
Functions as a bottle opener.
Shucker hooks onto belt or pocket for safekeeping. 
Chainmail Shuck Guard is dishwasher safe, and works for either hand.
Use the Shuck Guard as a sturdy scrubber for cast iron pots and pans. 

SPECS

Shucker: 1.5″ x 6"
Guard: 10" x 6"
MATERIALS
Food grade stainless steel
SHIPPING
This item ships via Fed-Ex or UPS Ground.
Parcel Orders ship within 1-2 weeks of purchase. 

Shipping will be calculated at checkout. 

For pick up from

 

our office on Saint Simons Island, GA, please call to schedule an appointment. 912-580-0346

We do not ship to P.O. Boxes.