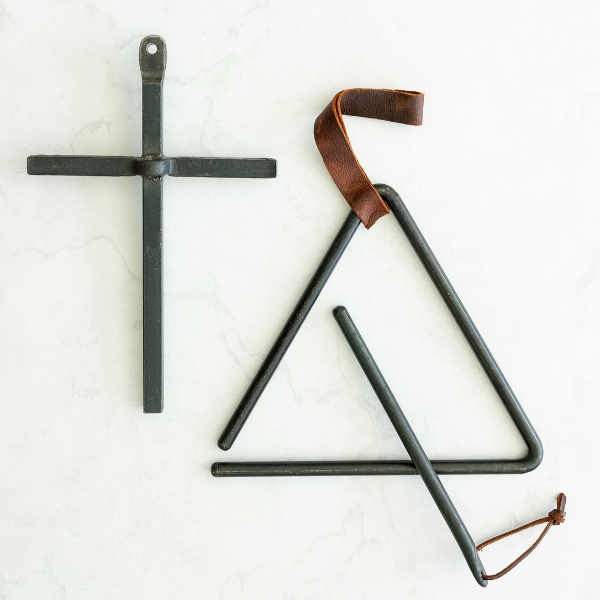 Warmth is more than just heat. It's the feeling you have in and around your home. And home truly has been the center of our world!  This Housewarming Set isn't just for new homeowners, but for anyone to set their intention for the home.
The Cross is a visual reminder of the blessing for all who enter. And the Dinner Bell is a lovely old-fashioned way to call your troops for dinner. This set embraces the sentiment that Home is truly where the Heart is. 
*SIF products are artisan crafted. Given their handmade and hand-finished nature, variations are to be expected and celebrated. Each item is unique and no two are exactly alike. Images shown may vary from your actual piece. 
FEATURES 
DINNER BELL
Leather strap allows the Bell to be hung or held by hand.

Leather loop slides along the bottom to keep the clanger in place.
CROSS
Includes a square-cut nail for hanging.
SPECS
DINNER BELL
11" long on each side

8" leather strap
10" clanger
Rolled steel with a beeswax finish
5 oz. oil-tanned leather
CROSS 
12 ½ "x 8" (2.17 lbs) 

Steel with a rustic matte finish and clear coat seal.
SHIPPING
These items ship via Fed-Ex

 or UPS

Ground.
Parcel Orders ship within 2-3 business days of purchase.

Shipping will be calculated at checkout. 

For pick up from

 

our Office on Saint Simons Island, GA, please call to schedule an appointment. 912-580-0346

We do not ship to P.O. Boxes.