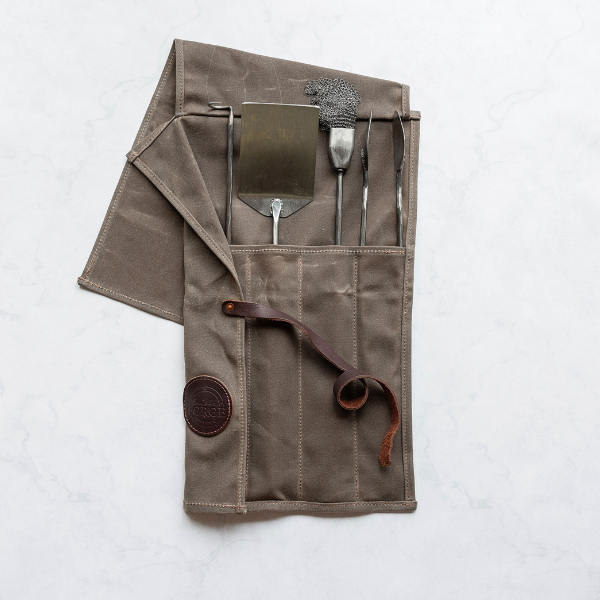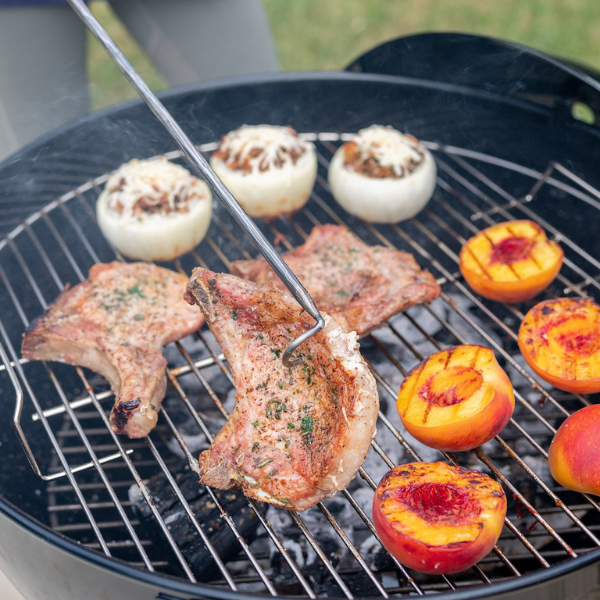 When you take your grilling seriously, you need a seriously badass set of grill tools. And in true SIF form, these Grill Tools are not only functional, but they also have an elevated level of cool. Cue the oohs and aahs... you'll be the envy of every griller in the neighborhood. 
Each tool has an ergonomic handle and is hand-hammered for extra strength. Whether you use them over open flame or in your kitchen, you will appreciate what makes these tools so special. 
Tools are sold as a set and individually. For information on the individual pieces, click the tabs below. 
GRILL TOOL SET:
We know you really want all four, so save a few bucks AND we'll package it in a handsome waxed canvas roll for storage. With leather accents and copper rivets, it makes a statement gift. And with a savings of $85, it also makes a lot of sense.
Collecting over time? No problem, you can add the canvas storage roll later.
All tools are 20" long, have an oxidized finish, and are dishwasher safe. 
*SIF products are artisan crafted. Given their handmade and hand-finished nature, variations are to be expected and celebrated. Each item is unique and no two are exactly alike. Images shown may vary from your actual piece. After 6/19/2022, spatula/tongs/sop mops will have a slightly more matte finish than shown in some photographs. 
SOP MOP 
This one is off the chain (pun intended). The basting tool's chainmail mop head grabs lots of sauce or marinade with all it's seasonings to impart more flavor to your foods. The mop head is removable for deeper cleaning.
PIGTAIL 

With just a flick of the wrist, you can flip foods as heavy as a brisket or as delicate as a peach. The sharp tip avoids tearing food and keeps the juices where they belong - in the food.
Keep the plastic tip for safety.
**This item available in right and left-handed versions. We assume righty, but if you prefer lefty, please tell us in the Notes section of the Shopping Cart. 
TONGS
Unlike others, these spoon-shaped tongs have a large "bowl" to hold bigger items like potatoes, and come together at the tip for smaller foods like veggies or to rotate skewers. You can use the traditional sideways "grab", or scoop over and under. 
SPATULA
While it's the most used one of the bunch, the lowly spatula rarely generates much excitement. But with the thinned, slightly sharp edge, you'll flip and serve without leaving food behind.
SHIPPING
These items ship via Fed-Ex

 or UPS

Ground. 

Parcel Orders ship within 4-6 weeks of purchase.

Shipping will be calculated at checkout. 

For pick up from our Office on Saint Simons Island, GA, please call to schedule an appointment. 912-580-0346

We do not ship to P.O. Boxes.