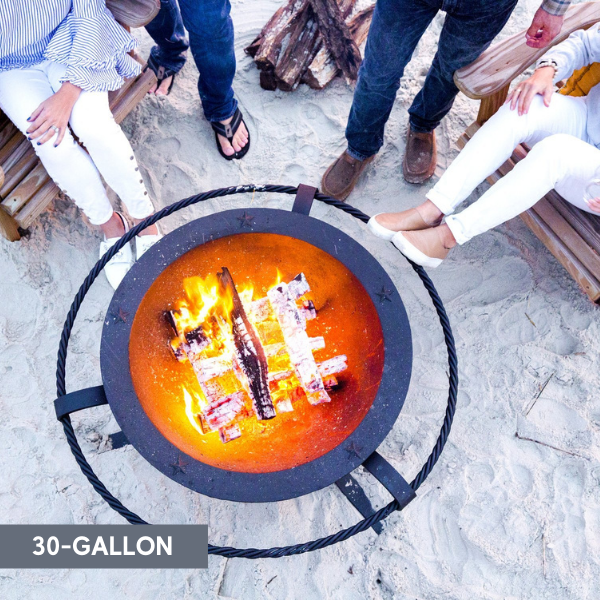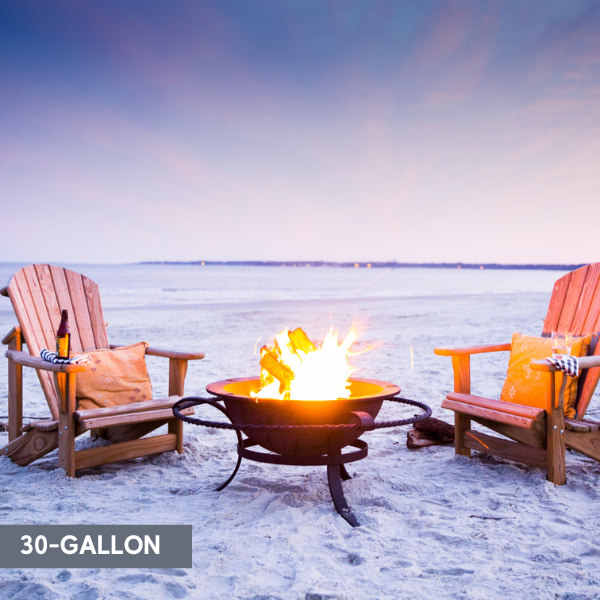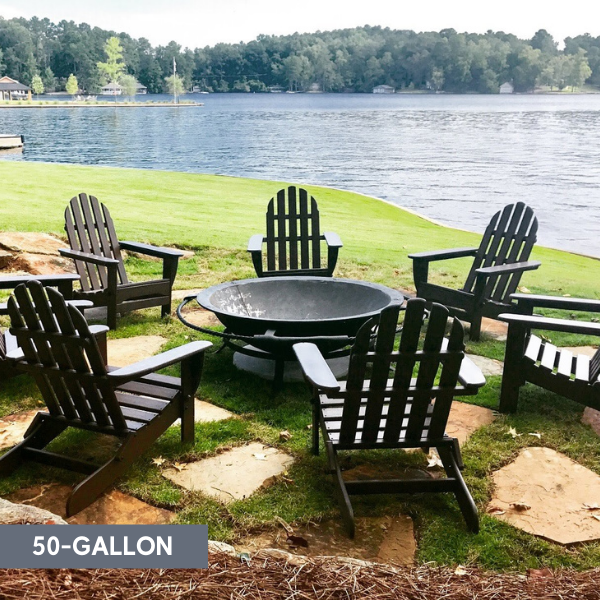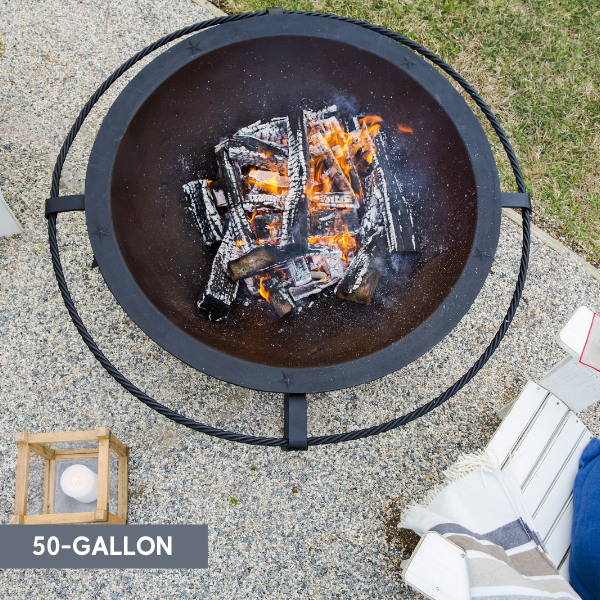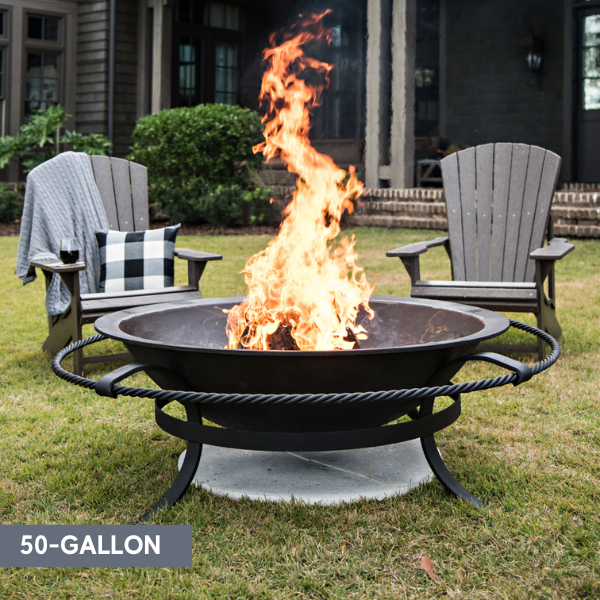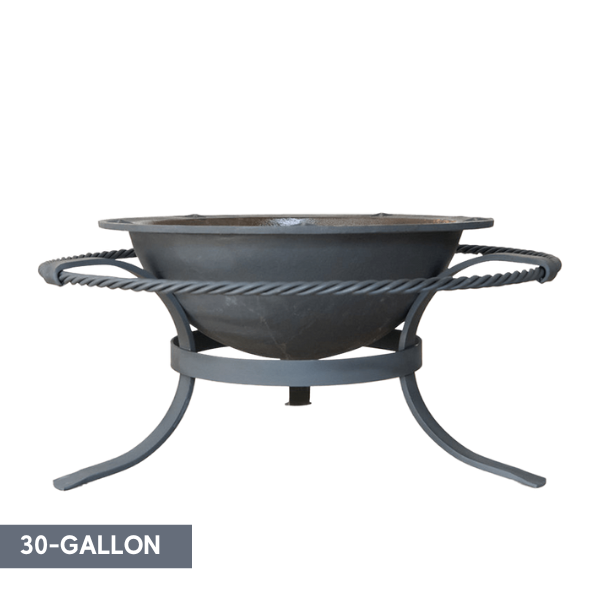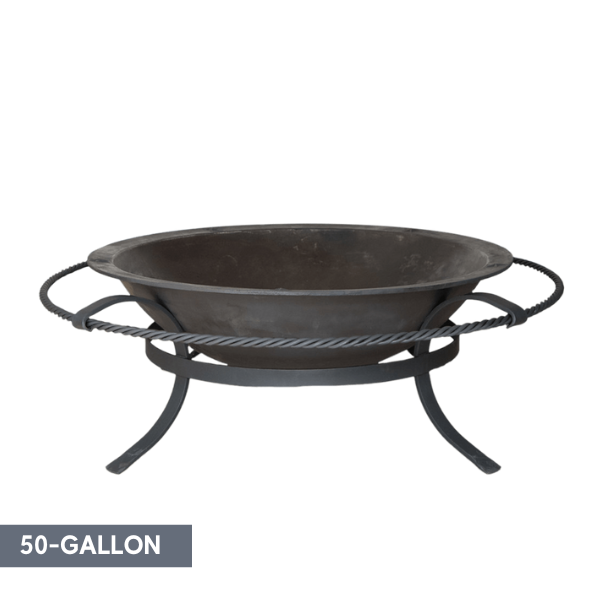 Gathered around a fire with friends and family… this is where time slows down and memories are made. No matter the occasion or the season, the SIF Fire Kettle-style fire pit is the best outdoor fire pit to provide you with the perfect blend of feet-up relaxation and open-fire cooking. Easily transition your kettle to a cooking kettle with these attachments and you'll have the ability to grill, griddle, and more.

The 30-Gallon Fire Pit suits backyards big and small with Boot Rail space for 8-10 pairs of boots, sneakers, even flip-flops.  Add our cooking accessories and it becomes a full-scale culinary experience.
Have a bigger space to entertain? The 50-Gallon Fire Pit broadens your gathering and grilling experience with more space to put your feet up and a larger cooking area. It's still the place to connect with friends and family - just, well, bigger. 
The Sea Island Forge Fire Pit is our modern interpretation of the historic syrup Kettles used in the southeast. These multi-functional Kettles were heated over a wood fire during the "cane grinding" season to melt extracted sugar cane juice into sugar. Given that the process took many hours, the time was often dedicated to gathering around the kettle fire with family and friends. Read more about the history and science behind the design Here. 
*Fire Kettles are for wood and charcoal burning only.  
We recommend adding a Table Top to keep your burn medium nice and clean between use.
Add a Spark Screen cover for the end of the night when the coals have burned down for an extra measure of safety. 
FEATURES
Fire Pit is specifically designed for maximum heat and burn time.

Bowl and Boot Rail Stand are two separate pieces to allow for leveling the bowl on uneven ground.

Boot Rail is crafted from four strands of twisted round bar to dissipate heat. It stays cool to the touch for feet and shoes.
Hot Dip Galvanization (Boot Rail Stand only) is an extra measure of rust prevention.

SPECS
30-GALLON
Diameter: Bowl 32"; Boot Rail Stand 42"

Height: 19" (8" from ground to Kettle)
Weight: 225 lbs
⅜" drainage hole
50-GALLON
Diameter: Bowl 50"; Boot Rail Stand 60"

Height: 19.5" (5.5" from ground to Kettle)
Weight: 370 lbs

⅜" drainage hole
MATERIALS
Fire Pit Bowl: 1/2″ cast ductile iron
Boot Rail Stand:

galvanized

steel
SHIPPING
This item ships via Fed-Ex

 or UPS

Freight.
Freight Orders ship within 2-4 weeks of purchase.
Flat rate shipping fee of $200 applies to all freight orders. 

For pick up from the Forge in Brunswick, GA, please call to schedule an appointment. 912-580-0346
Click Here for complete shipping information.